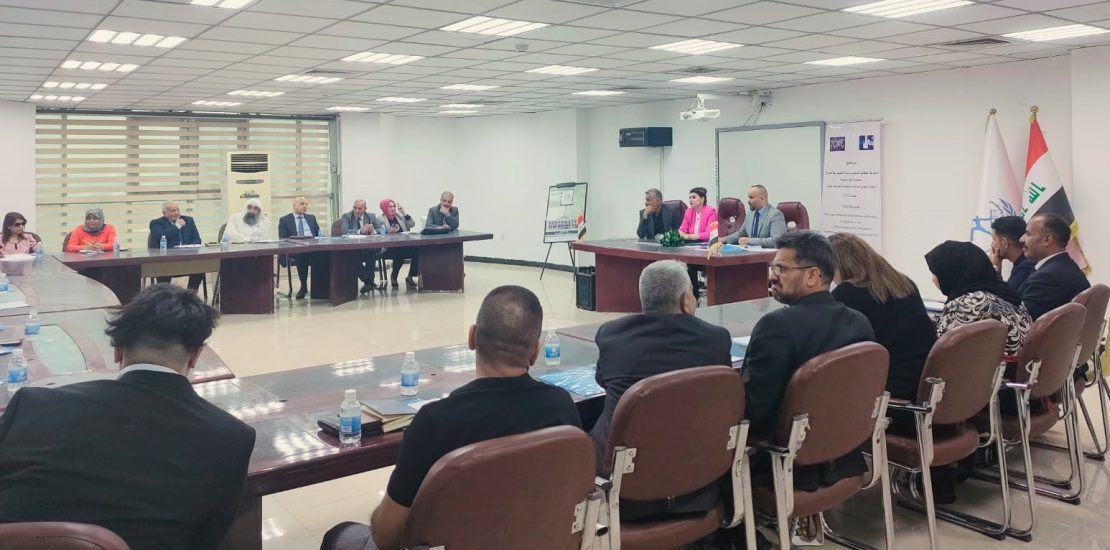 Our organization held a dialogue session on the right to peaceful assembly and freedom of expression in Iraq, in partnership with the International Center for Non-Profit Law ICNL and with an important contribution from the High Commission for Human Rights in Iraq.
During the session, we assessed the current situation surrounding the legislation. We reviewed the legislative environment and the legislative priorities monitored by the Iraqi Council of Representatives. We also presented civil society comments on the draft law on "Freedom of Expression and Peaceful Demonstration" that was put forward more than once in the Iraqi parliament. It was met with widespread objections from organizations, activists, and human rights defenders.
The Commission also presented its assessment of the legislative position and gave a general picture that it concluded through the monitoring reports carried out by the Commission's teams during the previous demonstrations.
Iraqi non-governmental organizations, representatives of the legislative and executive authorities, unions, press, and feminist associations participated in the discussion. Representatives of the United Nations and international organizations also attended. The attendees discussed all the data and presented their vision for the legislation. The meeting also drew a general framework that can be summarized in specific observations about the draft law:
Processing unclear texts and avoiding wording that can be interpreted with two or more interpretations.

Emphasis on the definition of all terms mentioned in the legal text.

Ending the conflict between this legislation and other laws, as in the text of the draft and the Penal Code No. 111 of 1969.

Addressing the rules of security behavior during demonstrations, whether it is in the text of the law or the obligation to issue subsequent instructions.

The requirement to obtain permission to hold a demonstration should be replaced by the organizers submitting a notification to the security coordination.

Addressing all types of peaceful assembly, one at a time. Defining each form and dealing with it.

The right of state employees and workers to strike and protest must be addressed.

Providing legal protection for demonstrators from all forms of abuse, especially women.

Providing protection within the law for the press and media professionals from all forms of harassment, assault, and prosecution for their work in covering demonstrations, and affirming their

right to practice their journalistic work during and after the protests.
Everyone agreed to continue working to deliver all proposals to the Iraqi legislator, and to call on all institutions to work together to reach the best form in implementing the right of peaceful assembly and freedom of expression.